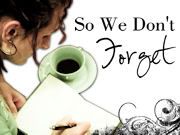 This Week's Topic: What is a favorite "alone time" activity?
As a mom of 2 kids 2 and under the "alone time" is few and far between .As I am exclusivley nursing Lyla there's no " alone time " from her but once a week I do take "Me Time" as we call it around our house . I adventure out with Lyla in a baby carrier and we go get coffee, sometimes do a little shoppping but mostly
I think.
I think alot .
Getting coffee and enjoy talking to strangers who know nothing about me is just a pleasure .
There is no expectations, no heavy duty talks, no concerns expressed and more then anything there is adults to talk to !
I dont know about you other stay at home moms but sometimes I so badly want to have a " grown up " conversation that doesnt evolve my children interupting .
So there you have it in my alone time I want a venti vanilla latte made with organic milk, a nice stranger to talk to and maybe something to shop for . I find I appreciate life so much more when I get away . I find I am so much more patient with my kids and my husband .